What do you expect of your alarm clock? Ringing the same boring tune everyday and making you feel like destroying it every morning or playing great music every morning and wake you up when you body is actually ready to wake up. If you think you need a gigantic device to monitor your stages of sleep then there is good news for you. It is possible to have this fantastic alarm clock in your iphone. Smart Alarm Clock: Christmas songs developed by Arawella Corporation is a special version of Smart alarm clock that has numerous music pieces that are soothing and best hit this season.
The smart alarm clock does not only allow you choose the tune you want from the list of songs given in the app but it also allows you to put your favorite song in it. There are 20 wake up songs added in the app which rejuvenate you every morning. You can choose some chill out songs from the list to get asleep. There are sounds of waves, breeze, and such soothing music to help you sleep. The app can record the sleeping phases and it runs silently on the background, all night long. It is an app loaded with features and used by 4000000 people around the world.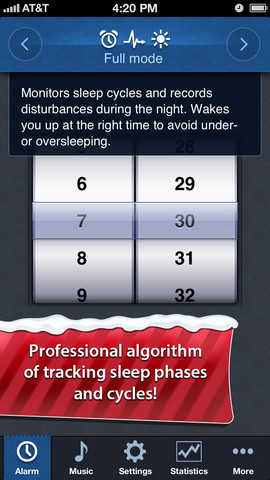 Features:
The app Smart alarm clock version 5.4.1 is a special one for Christmas with new 15 songs added in it. It is now available at a discount of 65%.
It is compatible to iPod touch, iPads, and iphone and it requires iOS 4.3 or later. The app takes 25.4 MB on the device.
The app has several in app packages that you can buy paying some extra bucks.
There is an amazing sleep recording feature added in the app. This records any sound during the time you sleep. You can check out the reason of disturbance in the morning. Snoring sound gets recorded in it.
The app can monitor the phases of sleeping and present it graphically.
The hi-rest retina display graphics is good for your eyes.
Though the app runs throughout the night, it does not consume much battery life. The light dims immediately to save battery.
A weather gadget, along with the wake up and chill out songs is added to the app.
You can select the volume and duration of the song to wake you up.
The app stays functional even in the background.
The app does not allow you to oversleep or under sleep. As it can check the sleep phases it detects the best time to wake you up.
You can choose any song from your phone to make it you wake up tune.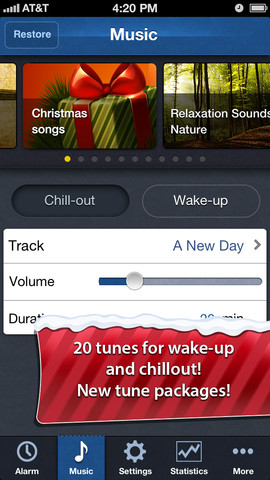 Summary: Smart alarm clock, Christmas song edition is a fresh alarm clock with loaded features. There are new features added to it which are unique and interesting. The app is a value for money.
Good: It is an app that provides utility and it is cost effective. The sleep monitoring feature is the most interesting one.
Bad: It can seem to be a bit costly for people who are searching for free apps.
Worth Having Application –   Download the Application