Dreaming to feel the atmosphere at Miami Beach, Atlantic? Want to know what is happening at the Disneyland, Japan? It looks like a dream for you. But now you can visit your favorite places through other's eyes. You must me thinking that I'm joking but seriously it is possible now with the help of What u see.
What u see is a location-based live streaming video app that allows user to catch up with people and friends at various vacation spots. It is an app developed by What u see Ltd. It requires iOS 8.0 or later and is compatible with iPhone, iPad and iPod touch.
The visuals of What u see are really awesome and natural. The videos are highly defined. It seems that we are actually present at the location. The map is covering each and every place in the world.
To begin, you don't need any sign up or sign in procedure. You just have to type the name of the location in the search bar and it will navigate you to the desired place. You can use zoom in and out to find the users of what u see. By simply clicking on the connect button, you can join the active broadcasts from your selected location.
What u see enables you to archive your videos online and share them with your friends and family. Each archived broadcast is linked to the location it was created in, enabling the users to search for and find these videos by location. You can use play button to watch archived broadcasts if available for your selected area.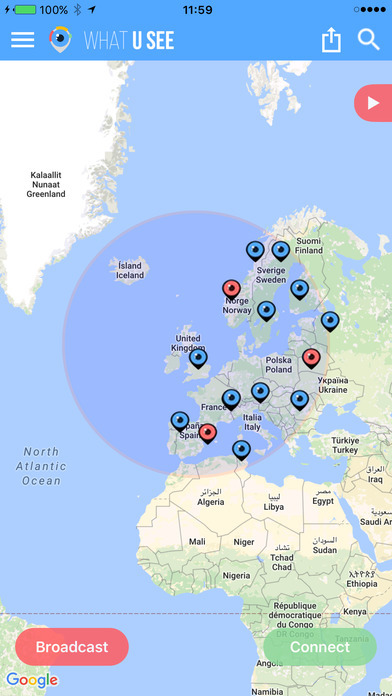 What u see provides users with on-demand access to their mobile phone cameras from all over the world. It seems that you are controlling everything remotely by guiding the users to give real-time direction by turning their camera up or down, right or left. You can communicate with the active users and ask them to give real time feedback also.
With what u see you can catch with your friends anywhere at anytime. Now, you can have the chance to catch a sight of a beautiful beach to real-time events in a different way. What u see is fully safe and secure as it is anonymous. Your personal information will not be stored in the database.
In this latest version of what u see, you can like the broadcasted videos by giving thumbs up to the user. You can not only talk with your friends but can also chat with them. The videos can now be sorted out in different manners in this app and you can manage all your subscriptions together also.
So, what are you waiting for. Don't want to explore the world in real time? If you want then download what u see now! Help others to see what you are seeing.
It's totally free in the App store.
Pros: Live video stream; real-time feedback; share and broadcast videos; safe and secure; free.
Cons: None.
I give this app 4.3 out of 5 stars.
Worth Having App : Download the App