The start of note-making apps might have been trivial considering their moderate popularity and mild operational features but the fact can't be denied that they're one of the most powerful tools for jotting down quickly anything that comes down to your mind. I think that's one big reason that they're used to prepare your grocery and to-do-lists. If I'm talking to a songwriter on the other side, then theirs is one of the most impromptus natural-cum-mankind processes that mostly strike when we're in most inconvenient of situations like driving a bike or taking a bath. Finding a pen and a notebook would be the last option and taking out your phone and scribbling down your lyrics would be the first. By the way, what about the composition? Are you going to manage to switch in between your note application and voice recording with 15 seconds left on the traffic-lights? I don't think so.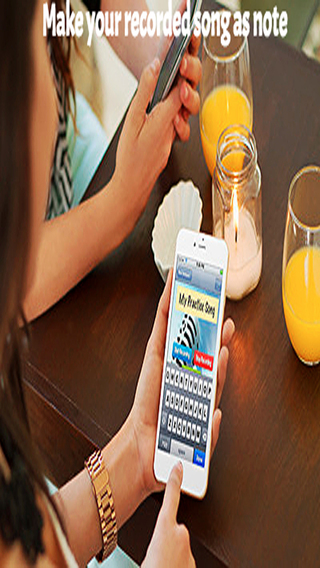 If you agree with me, then here's a remedy for you. It's the latest iOS app called Super Notepad that has been developed by iApps Technology. The app is compatible with iPhone, iPod touch and iPad and requires iOS 6.0 or any later version of the OS. This app has also been optimized for iPhone 5.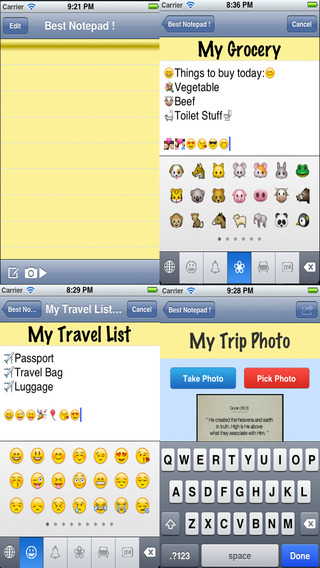 Super Notepad is designed with lots of care and lots of features to be embedded into this 17.6MB file. There are three different aspects or should I say, types of notes here: text, audio and image. As we're familiar with text notes, here you can quickly prepare lists and with help of emoticons, you can decorate your list which is otherwise as flat as a-joke-without-punch to be exact.
In the audio notes, you can embed an audio file recorded by you into the note and then add the relevant description. So it can be a speech with a text input at the bottom to help the listener understand it better. It's stored on your device, so you can retrieve it back anytime. At last, we have notes with images which allow you to add any image from your camera roll to the note. The alternative is to capture a new shot right from the app, add a beautiful caption and it's ready to be shared with your friends.
Though all these different files are available under the same folder, they're distinguishable from their icons which are different for text, image and audio notes. So finding your desired note won't be a problem at all. Also, you can convert the text notes into beautiful e-cards using in-app pictures within a matter of seconds. Sharing is just the very next-step with access to all the platforms including email, Facebook, Twitter and even SMS. So there's no stopping your way!
An app that can cheer you up even while making notes is certainly worth a shot. The app is available for $1.99 in the App Store. So just prima facie your iffy minds and go for this one!
Pros: beautiful interface; well sorted out different file types; e-cards; text, audio and image notes; share directly.
Cons: none.
I will give this app 4.5 out of 5 stars.
Worth Having App – Download the app