Introduction 
Sudoku is a simple puzzle and number placement game that is based on logic. It is easy to learn and great for sharpening your logic thinking as you play the game.
While the game is pretty straightforward, it can be quite a challenge to solve the puzzles if you are new to the game. However, the good news is that the app has free and good programs to help solve it. The help scans and keeps track of probable digits for empty cells. They also provide color markers and filters to make solving even complex puzzles easier, faster and fun. It is an ideal game for new players as well as veteran Sudoku puzzle solvers.
Concept and Game Play
The basics of every Sudoku game are the same although each has its features that make it unique. The game is flexible for all kinds of players.
Sudoku does not take one through a tutorial on how to solve the puzzles; however, it offers different difficulty levels so that new players can get acquainted with the game without feeling intimidated.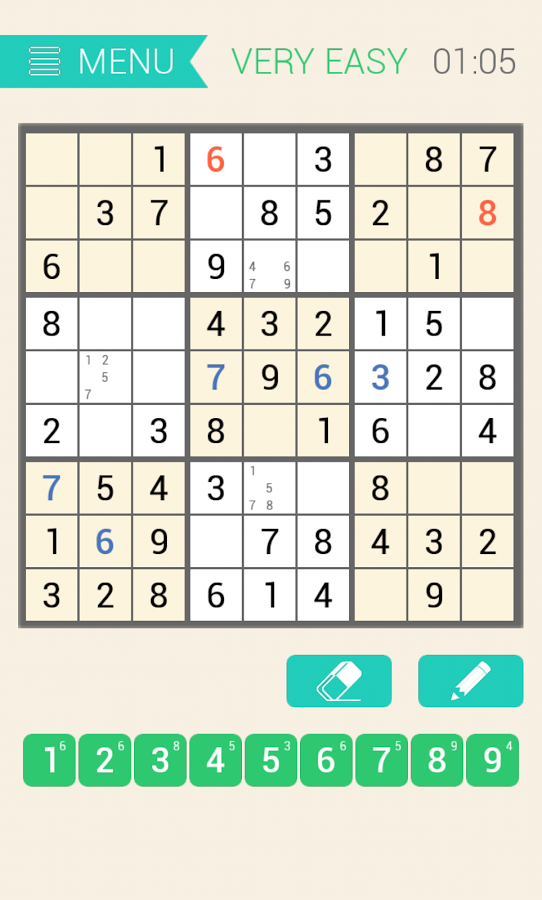 It features a useful "How to Play" section, but it features text only. I think it is sufficient to give new players a feel for what they need to do to correctly solve the puzzles.
To solve Sudoku puzzles, one just taps on a cell and then selects either of the numbers 1 through 9. The number is added to the selected cell. The game allows on to edit and erase numbers inserted in cells when necessary using the appropriate buttons.
Regarding playability, Android users stand to enjoy the layout and simplicity that Sudoku offers. There are not many whistles or bells, but everything is adequate to give a pleasant experience in solving the puzzles without frills and fluff.
Features
Sudoku has some handy features particularly the ability to resume a puzzle game in progress. A player does not need to worry about manually saving a game before exiting the app. However, games in progress are erased when you start a new one.
As mentioned before, Sudoku also features different difficulty levels for new players and experienced players. You can choose from one of five according to your skill. A higher difficulty level simply means fewer numbers are given when starting a puzzle.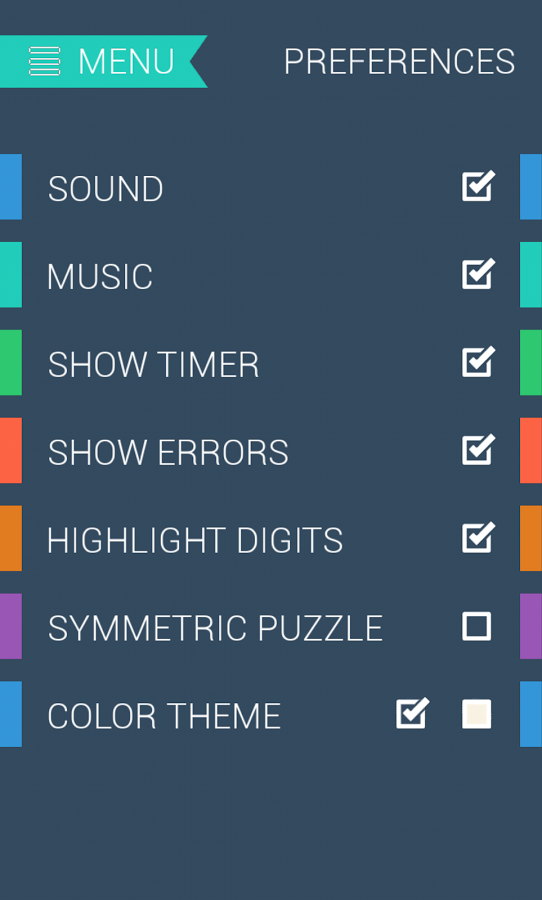 If you like checking out game statistics, Sudoku has that covered. You can easily view statistics for each difficulty stage fro the game's menu, such as the number of games finished and your best as well as average time for puzzles.
Value 
Sudoku is available for free download from Google Play Store, and it has no ads or in-app purchases. Hence, what you see is what you get. You do not have to worry about purchases to unlock any of the features of the game.
Overall, Sudoku is a remarkable game that is worth checking out. I have always had fun playing this game and writing its review was interesting. I am sure you will find playing Sudoku awesome as you hone your puzzle solving skills.
 Worth Having app – Download the App