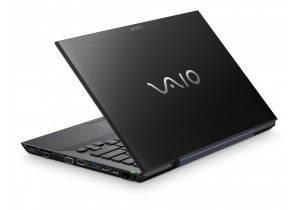 Sony has come up with its series of ultra thin powerful laptops, the S series. It has already been made available for pre-order at around $1350.The S series weighs just around 3.6 inches and is 0.9 inches thick. Vice President at the networked technology division at Sony, Mark Lucas quoted that the S series is a response to consumers' need of powerful computing with long battery life. The Vaio S series is a 13.3 inches high end laptop that comes with a display of 1600X900 and is loaded with the second generation of Intel Core i7 processors. The laptops come with quite a number of optional additions including a SSD drive, AMD Radeon 6630 Graphic card and a blu-ray drive.
The laptop has a backlit keyboard display as well as a webcam resolved for low light ambience. Sony claims the lithium polymer battery to provide a battery life of around 15 hours or longer depending upon the type of hard drive plugged in the device. An optional sheet battery makes the charging quite easy for the device and saves precious computing time too.
The laptop has matched the fabulous look features of the Vaio as it is available in an assortment of colours and is quite attractive in looks too. The laptops come with pre loaded Windows 7 and have high end graphic display options including a HDMI output with Intel wireless display, HD graphics and dedicated video memory options. A gestured keypad is there and one touch access to various utilities, support and security options are provided in the machine.