I'm always on the lookout for apps that blend technology with business. Today's review is on a very new app on the market, launched by none other than the entrepreneurial expert, Reuben Singh.
For those of you who haven't heard of him, Reuben Singh is a top-tier UK businessman, who launched his first business in 1995, at the age of 19. This idea was to be one of the first stores to combine both girl's fashion accessories and make-up in the same shop.
One tiny corner of the Arndale in Manchester quickly multiplied into a nation-wide chain of stores, but in 1999, he sold the business and began his most famous enterprise to date. He founded alldayPay, which is a UK-based call handling company and telephone answering service. It currently handles the telephone communications of over 23,000 UK businesses.
So, what's the app all about, and why should you download it?
Get his blog posts straight to your phone
One of the great features of this app is the blog section. While the blogosphere continues to grow, it's hard to seek out the hidden gems filled with advice and great content. This app gives you instant access to all the words of wisdom you would expect from a successful entrepreneur, but with the ease of usability and simplistic format that makes apps so much more preferable these days.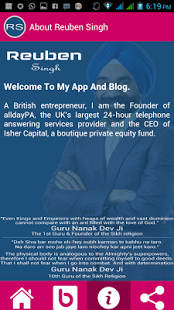 Read up on his biography
Reuben Singh is keen to pass on all the trials and tribulations he has faced throughout his 20 years of experience, so why not reap the benefits? If you're interested in reading up on what it takes to succeed in this cut-throat world, then this is a must-read. Why would he give away all of his trade secrets? In the hopes that other aspiring businessmen and women can learn from his mistakes.
Check out his new scholarship
Talking of helping out the entrepreneurs of tomorrow, this happens to be a real passion for this business mogul. Another feature of this app is that you'll be able to find out all about his newly-launched scholarship programme. Aimed at giving budding business brains the leg up that he never had, it gives youngsters the opportunity to apply for a £9,000 scholarship to go towards their studies. If you want to find out how to enter, download the app and find out.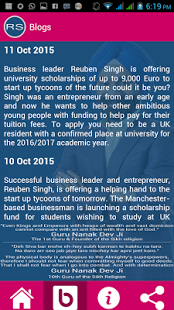 Find out about his charity projects
Reuben Singh also believes that charity begins at home, and because he is keen to share his wealth and connections with deserving contacts, he is involved in many projects that focus on bringing a better quality of life back into the community.
Given the always-online nature of today and the sheer number of digital start-ups that seem to sprout up on a daily basis, there is a definite need for an app like this. Combining great business advice with a simple end-user experience, this is the app for those wanting to know how to become a successful entrepreneur. Thankfully, the Reuben Singh Android app is available to download right now, so what are you waiting for?