The Cloud storage technology is here to solve out all your data storage, maintenance and access issues; and the free application pCloud gives you the power of the same cloud storage through your mobile device.  The application can be a great way to access and manage your data through your mobile and at the same time to store them in the cloud, so that you can access them from anywhere through any device. PCloud makes it simple to share your pictures, videos and files; and whatever changes you implement on your stored data through your mobile is automatically updated to your other devices.
This latest technology driven tool comes for absolutely free for as much as 20 GB of storage space; you can update to a paid version to get 100GB, 300GB or even 1 TB of cloud storage space according to your needs. The charge for the paid subscription is also quite reasonable; and it just adds a lot of usability to your mobile device. With pCloud you never again need to worry about your work even when you are on the go.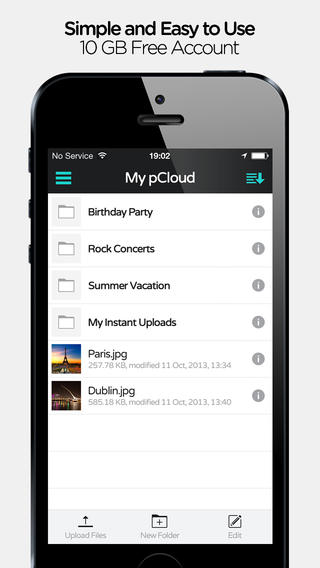 Features:
The app offers the user instant access to all his pictures, videos, files, documents and devices from anywhere.
It enables the user to share his photos, videos and documents easily. Friends can even place files from different devices on the folders created by the user in cloud.
The app runs in real time and automatically updates all the changes implemented on the cloud to your every storage device.
10GB of free cloud storage space is provided at the time of sign up; which can extend up to 20GB with bonuses.
The application makes all the files marked as "Favorites" available in your device even when you are not connected to the internet.
You can view your account's recent activity directly through your mobile device.
There is no file size limit and you can upload files of any size without any loss of performance. It also enables you to pause and resume your uploads and downloads.
There is no space limit for storage, starting with 10GB you can extend it up to 1 TB through the premium subscription plans.
Three different plans, each with one month and one year subscription options, allow the subscribers to opt for the plans according to their needs. So, you need not to pay even a single dime extra for the space you do not actually need.
The application is fast enough and even the biggest file sizes will never make it slow.
The current version of the app is 1.5.0; it takes 8.7 MB space in your mobile device's memory; and is available in 9 different languages including English and French.
 Summary: pCloud is a useful application for iOS devices that can provide the users with all the great facilities of Cloud Storage right from their mobile device.
Good: Up to 20GB free storage is available with this free app, which can be a great way to try out the tool before spending money for it.
Bad: No bad reports about the app have been yet reported.
Worth Having Application :  Download the App