As a music lover, one of the biggest trouble is to find a player which supports all kinds of formats.One of the biggest drawbacks of iOS platform is its inability to play all kinds of formats. However, nPlayer has changed that. It lets you play all kinds of all kinds of video formats, that are otherwise not supported in your iPhone. It works well with both streaming content as well as files that are locally stored in your phone. Because of its versatility and its ability to play almost everything smoothly,it is known as the " mother of all media players"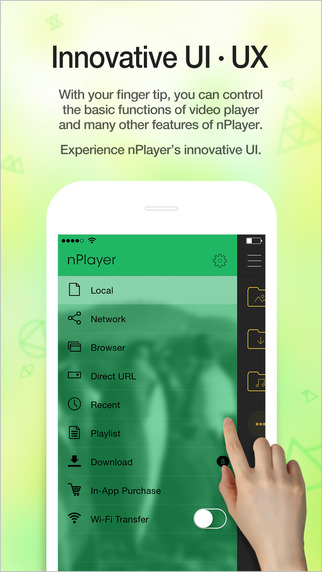 FEATURES: Generally, Apple users had to be satisfied with less number of media files. However,nPlayer has expanded the horizon a little more by allowing users to play a whole host of files. It can play almost all the audio files like MP3, FLAC, APE, etc. Some of the video files that are supported include MP5, OGV and TP to name a few. nPlayer app provides high quality performance, supported by powerful streaming technolgy which helps to stream play from FTP, SMB server directly. nPlayer also supports more subtitles than other comparable apps. It can play SUB,SRT and LAC formats with ease. The size and the color of the subtitles can also be adjusted easily.
nPlayer also has an iTunes section where you will find movies and music files. There is also a built in browser that lets you access more information.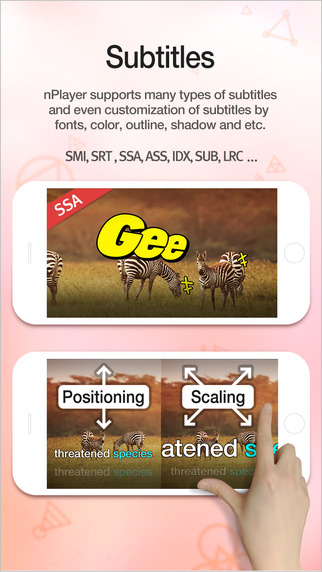 It also comes loaded with lots of gesture controlled features. You can play, pause, rewind with one swipe of your finger. The brightness, saturation and contrast can also be adjusted easily directly from the display screen. It is an amazing experience to use this app and feels natural on iOS.
DESIGN AND INTERFACE: Once you open the application, you will find a very simple looking interface. At the top there is an option to share your files through Wi-Fi by entering your browsers IP address. There is also an option to classify the files as per their date and size. nPlayer also allows you to select multiple files, enabling you to move easily around the different files, because managing the files is one of the most important features of the application. Any document that you possess will directly go the Document section. Overall, the app is fairly simple and easy to use. You don't have to be a tech savvy person to operate this.
OVERALL VERDICT: nPlayer app features an easy interface and provides great high quality video performance. It supports all kinds of codecs and video formats without the converting efforts. The control gestures are also very good. Support for subtitles is also another great feature for movie lovers who loves watching movies of a different language. The ability to vary the size and position of the subtitles also comes handy at times. If you are searching for a media player that supports all kinds of formats, then nPlayer is the best for you. Although it doesn't come free, but it is definitely worth the price.
Worth Having App – Download the App