Introduction
The Mini Roco iPhone app is basically an endless running game that is based on a character in form of a silly cow, 'Roco', whom you have to control through making him jump over obstacles, avoid spikes, lava, free falls and any other barriers that may prevent him from reaching the targeted goal of the game or score. If he falls in either of the obstacles, either pierced by spikes, falls on lava or even free fall, then you will have to restart the game afresh. The game comes equipped with high graphics, multi-levels and is free from the app store supported in both the iPhone and the iPad.
Description
If you love games that keep you always on the move as the character or adventure, then Mini roco may most probably be the game for you. It involves a cow character known as Roco, that you need to control, ensure that he eats grass by collecting it and collecting balloons. It has several features that make the playing experience great, such as;
Smooth and effective controls: Whether you want Roco to run faster, jump, collect grass or even stop, you can simply do with the tap or a swipe of your device screen.
Awesome graphics: As the usual of many latest iPhone games, this game has been equipped with high definition graphics, which takes you to another generation of gaming experience
New characters and levels to unlock: Playing only one level or just with one character like Roco may be boring, and hence you have the ability to unlock newer levels and characters.
Better looks and design views of newer levels: When you get to newer levels, they have been designed to be better than the former ones, hence the monotony is broken and game has more fun.
Engaging: It helps you to use more of mind intellect and practice intelligence as you progress through the levels.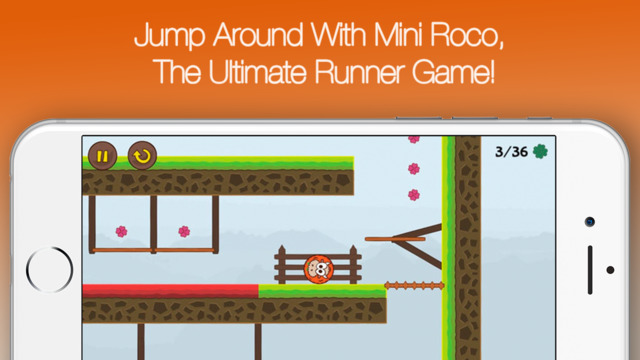 Pros
– You cannot easily get bored while playing this game as it has multiple levels and you have bonus points that enable you to unlock new characters who are better as the game progresses
– It is engaging, and hence reduces the monotony of playing the game just for the sake of, or just to pass the time.
– It is equipped with awesome graphics, hence making it more interesting
– It is free to download, hence you do not need to worry about the costs
Cons
– It can only support iPhone or iPads with iOS 7.0 and above
– It may consume so much of your time, especially if you have many other things to do and play it to pass time.
Conclusion
The mini Roco platformer game is a very recent game that has taken over adventure gaming on iPhone iOS by surprise, where it comes fun-filled and full of challenges, puzzles to solve as well as many levels. If you love pursuing and solving challenges in adventure games, then this is the game to look for. It comes equipped with plenty of fun for everyone, having awesome graphics, another level of gaming experience, and to make it better, it is free of charge, hence available for anyone and everyone. It is definitely worth trying if you own an iPhone!
Worth Having App – Download the App