Casual games are popular among everyone in the family and they don't ask for much of your brainpower. They are a great means to while away the time when you are waiting somewhere. These games offer you a complete challenge and keep your boredom at bay. One such casual app that I recently downloaded on my phone is the Mask On / Mask Off.
Given by OnceRed LLC, the app Mask On / Mask Off belongs to the casual category in the Play Store. This app is suitable for people of all age groups. All the smileys and animation of the app are so good to look at. The design is nice and the colours are not overwhelming and all the components of the app are good.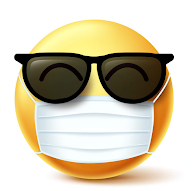 Mask On / Mask Off is such an innovative app that is smooth and fluid to operate. The idea of the game is to mask the faces without masks. The strategy of the game depends on how fast you do it. All the faces appear and disappear on the board and occupy the space to fill it. This game is so simple but it gets difficult as you progress through the higher levels. The game comes with different menu icons that make the usage of the app easier.
The various levels of Mask On / Mask Off come with the different number of square combinations, faces and targets. Users can purchase different items like nurses, vaccines and power pills with the points varying from 500 – 7500. The scores obtained, the target and the time are displayed at the bottom of the screen. If you are slow, you would lose points and you must try again.
Mask On / Mask Off works with the idea of giving to the first respondents and needy local food pantries. Money is obtained by these ads when you watch a video at the end of each round. This is not a compulsion, you can press the button to watch ads only if you prefer. This costs the gamers nothing but they would get 200 bonus points in return.
The developer contact is info@oncered.com using which users can clarify queries if they have any. The app is rated 3+ and is compatible with Android 4.0.3 or later versions. This app has access to view all the network connections. Mask On / Mask Off is an awesome deceptive game that is completely entertaining.
Worth Having App – Download the App