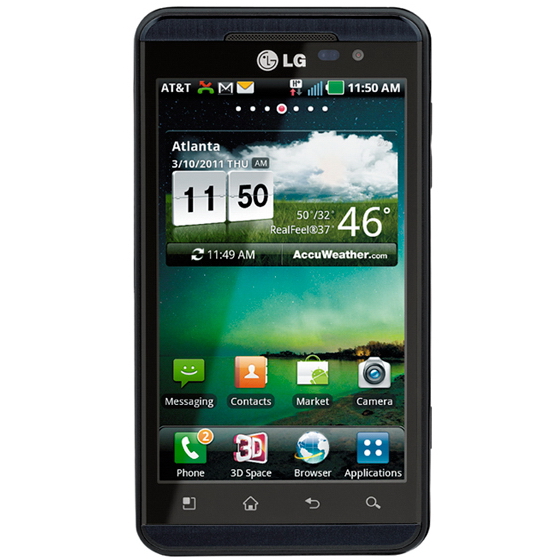 Pros:
The latest PDA-cum-mobile-phone-cum-digital-camera from LG, the LG Optimus 3D could be best punctuated by two distinguishing features; a dual core processor for extremely blazing operations and the unique glasses-free 3D display and image capturing capabilities that could humble even the best of the digital cameras. Apart from this, there are options aplenty for a fanatic tech gadget enthusiast to play around with. The latest Froyo 2.2 Android OS from Google, a 4.3 inches glasses-free 3D display with a screen resolution of 480×800 pixels, couple of 5-Megapixels Stereoscopic cameras, a whole lot of web connectivity suite, the version 3.0 of Bluetooth and all other practically usable smartphone options have been injected rather profoundly into this one-in-all LG Optimus 3D mobile phone at a humbling price of just $488.
Cons:
To be honest, so many features packed in a single gadget are hard to soak for even the most frenzied of fans – let alone the device itself. This is perhaps the precise reason as to why the initial remarks of the tech gurus about LG Optimus 3D have not been too lauding. Especially, given the massive toll which the processor of the phone has to take to accommodate the so-called '3D' display and the hefty cameras, the overall performance of LG Optimus 3D suffers quite awfully.
All in all, it could be mumbled rather disgruntledly that LG Optimus 3D is all about the hullaballoo that had been cocooned around the 3D aspect of the phone which unfortunately spells as the chief downside for this quick-entry-quicker-exit sensation from LG. Final thoughts: LG Optimus 3D beckons for some serious buyers!