Brain games and Puzzle games are mostly difficult to play and needs a very high IQ power to complete each level. The games of this type helps individual to sharpen their IQ power as it makes them think the most. Puzzle game developers always tell their success stories as their games get easily popular. The theme of this game has a little attractive cat, where you have guide him to open a door and find his bed by solving a puzzle. Here the big puzzle is how to open the door. You get a chance to drop a ball from the top and you have to place some  small hurdles to divert the ball to the right direction to hit the knob of the door and open the door. In theory this game might look very simple but when you play it, you have to think twice to place the pad and knobs in the right place before dropping the ball. It's really a tricky game where you have to use your brain the most.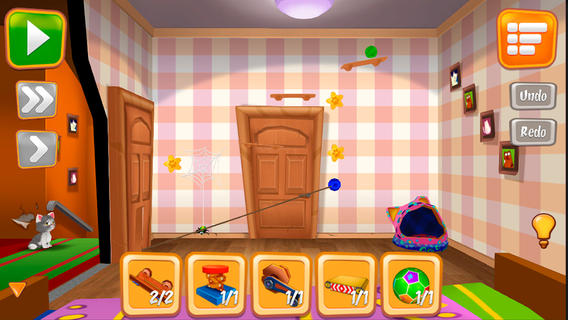 Let the cate In, is designed in a way to attract most of the kids with a small and cute kitty cat. Even the menu screen is designed with a theme that the cat is struggling to sleep with the sounds of thunder and lightening. while fighting to sleep he gets disturbed from his cute dreams about his food. After seeing such a beautiful menu design you will never think about quitting this game. Even the game loading screens are designed with the paw of the little cat which is very much attractive. When you touch the cute little cat, he responds to your touch. Kudos to the design team for taking care of minute things which are expected by an user.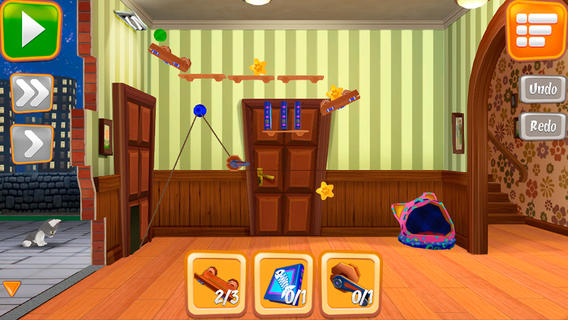 This game has several level of rooms, to unlock each room say for example if you wish to unlock the second room you need to complete the levels in first room and achieve atleast 120 stars in the first room. The stars are given based on how many stars you are collecting while solving the puzzle. Like wise to unlock the third room you have to complete the levels of second room first and achieve 120 stars. In the third room also you must achieve 120 stars to give the kitty cat a peaceful sleep. It's nothing like sleeping in your favorite place, so let's guide him to sleep in his favorite basket.
Pros: Very unique theme and a new way of creating a puzzle game. I would say this game will be a trend setter in developing puzzle games. Every single detail of the game sticks to the game theme which gives a wonderful user experience.
Cons: You get to see a video advertisement after completing each level which is little annoying though as you don't have any option to skip it. But it can be removed by purchasing the paid version of app for $0.99.  Other than this annoying advertisements this game is a great time killer.
Worth Having Gaming App –  Download the GAme