No matter where you are, you are worried about the security of your loved ones. If you are a working parent and need to leave your kid with a nanny who is apparently unknown, it is quite difficult to concentrate. Even if, you have installed security camera and surveillance system at your home, there is no alternative to inspecting the place yourself and that cannot be done when you are away from the place. Today, technology has advanced and that has given privilege to the iPhone users to keep a close look on their home through their phone. It is possible with CAMS2ME, which is an app for surveillance and security of your home and can be installed on your phone.
CAMS2ME, presented by 1stWorks Corp, is a unique app that takes care of your home in your absence. Here, the camera will be connected to your iPhone through which you can view what's happening there. The process is a silent one which can be ran on your home or office and you can view everything from a remote location. The video can be recorded too in case you think there is a need. Otherwise you can view things in real time with sound and video detection. The features of the app can be set according to your personal preference.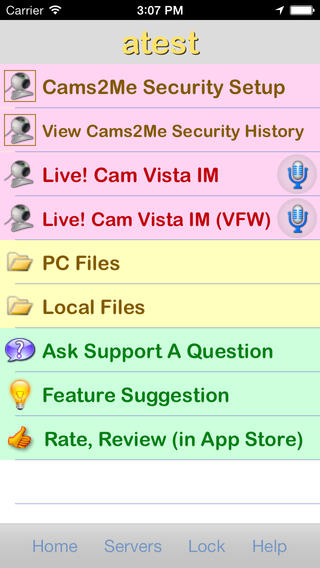 Features:
•    CAMS2ME is a surveillance and security app that can be installed on your iPad and iPhone.
•    The app can be connected to the security camera and microphone in your home or office and thus, video and sound will be recorded.
•    You can see what is happening in the place at the real time. The live view of the place will keep you informed about everything and it will be possible for you to take quick action.
•    Recording the video is an optional thing in the app.
•    You can change the setting of the app at anytime. You can enable or disable keyboard mouse monitoring, audio monitoring, motion monitoring, and more.
•    If you are about to record an event, you can set the duration for the same.
•    You can check what is happening at the home or office from a remote location. No need to stay close to the location.
•    The app provides you an option to ask question to the support team.
•    The app is compatible with iOS 6.0 or later and it is optimized for iPhone 5.
•    The version 1.1 of the app takes around 15.2 MB space on your device.
•    The cost of the app is $9.99 which is a onetime payment.
Summary: CAMS2ME is a new app on the iTunes store that can make your home and office security tight and keep you updated about what is going on at the place from a remote place.
Good:  Video can be recorded with the audio and there is no need to stay close to the location in order to record things.
Bad: The cost of the app is a bit too high but as it is a onetime cost, it can be paid.

Worth Having Application : Try Cams2Me Today