This is an app which promises to completely rediscover your music library. It promises to do a lot of things, such as creating brilliant mash-ups, playlists, and help you get a deeper dive into your music. But all that does sound too good to be true? Well, yes it is all too good, but Infinite Music stands up to it all.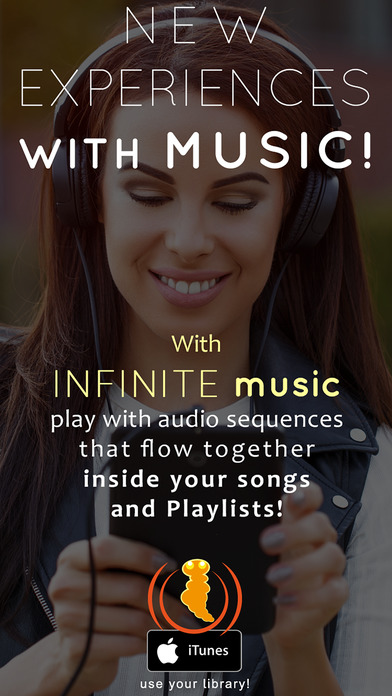 GREAT MASH-UPS ALL THE TIME:All of us music fanatics know that Genius was never good enough to get us great playlists, because most of the time it could not find enough songs from your music library to create a playlist. Maybe it wasn't as genius as it claimed. But Infinite Music comes to our rescue. It has some of the most amazing and brilliant features for a music app and almost all of the features we ever wanted. The best and pioneering feature of this app can be said to be its ability to grub your music to see its structure at a glance and allow you to extract sequences from songs that will go well together. And it is very exciting to be able to play the songs in your playlists and listen to them jumping to sequences from different songs which go well together. It is a very different and exciting thing to do. You will listen to your songs like you have never done before. All your songs will be made into mash-ups and you will always have new content.
COMPOSE YOUR OWN MASH-UPS:It also allows you to compose your own such mash-ups by linking together sequences from different songs seamlessly and without any issues.
DETECTS ACTIVITY AND MATCHES MUSIC ACCORDINGLY:This is another very exciting feature of this app. Whether you are walking, running, exercising doing yoga or just lying in your couch, this app can detect what your current activity is and can match the playing music accordingly. And it works very efficiently. Suppose you are working out, the app will understand that you are working out and will switch the music to something which will energize you and further rejuvenate you to work out. Or if you are just walking, the app will switch the music according to your walking rhythm, to ensure that you enjoy your music in the truest sense.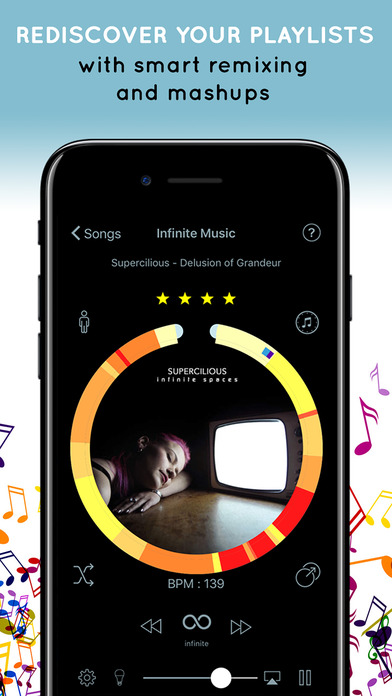 SYNCHRONIZES LIGHTING WITH PHILIPS HUE LAMPS:Whatever you might be playing on your iPhone or iPod, the music will always be in sync with your Philips HUE lamps which is a very good thing and helps add ambiance to your parties or hang-out sessions with your friends.
PLAY MUSIC FROM YOUR MAILS/CLOUD STORAGE:Infinite Music deeply integrates with your system and allows you to play music from your e-mails and cloud storage, all it needs is a long press.
Overall, Infinite Music is the best way to truly rediscover your taste in music with creative mash-ups, brilliant seamless composition and beautiful and simple intuitive user interface. A very creative application which is a must have for all the music fanatics out there, who have been bored and annoyed by the regular Genius which is not a great choice to create playlists and does not come with the freedom that Infinite Music offers.