Music is an integral part of our daily lives. No matter where you are and what you are doing, you would love to listen to music. This Indie Rocker wireless Bluetooth speaker from White Label lets you carry music wherever you go; whether you are at a party, in your home, garden, travelling, hanging out with your friends or at sporting events. Music can instantly change your mood and add to your enjoyment. If you are a music lover, then this gadget is definitely a great addition to your music devices.
Features
This gadget comes with APTX Decoder for high quality audio playback.
There is a built-in mic to facilitate hands-free voice calls.
The device is equipped with Bluetooth 4.0.
The low power consumption of this gadget gives long play time allowing you to enjoy your music without worrying about recharging the battery.
The auto pair function is a simple connection process that enables you to connect with other devices with more ease.
The length of the device is 6.12 inches, width – 1.83 inches and height – 2.3 inches.
It weighs 10.56 ounces making it easy for you to carry it anywhere.
The minimum rated talk time on this device is 6 hours.
The minimum rated standby time is 100 hours.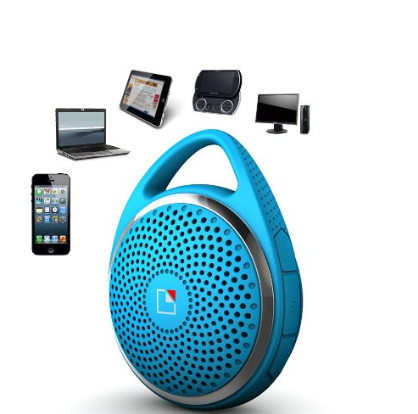 The Good
It has high quality audio playback and comes in a size and shape that allows you to carry in a bag or backpack. The geometric patterns on the front, back and sides of the device add to the overall appearance of the device. You can connect it with other music devices in one step using the auto pair feature. This saved a lot of my time and gave a hassle-free user experience. The entire gadget is covered with a non-slip pad that keeps the speaker from slipping. You can easily set up this device as the buttons that allow various functions such as increase/decrease the volume, on/off the device, connecting it to USB port are clearly visible with signs. This is the first Bluetooth speaker that allows the user to make calls from it and I think that's the best part about this gadget.
The Bad
The Bluetooth connectivity is not as great as advertised by the company. However, it does perform a good job. The main drawback of this gadget, according to me, is the internal, non-replaceable battery. The device is completely made of plastic, so if you are someone who likes to use eco-friendly gadgets, then this device might not please you.
Summary
All in all, my experience with this gadget has been great without any major drawbacks or complaints. Although wireless Bluetooth speakers are common now, the free voice calls feature and attractive design of this gadget makes it a great choice. The sound quality is great and the battery has decent longevity. Go for it if you are looking for a modern and advanced wireless Bluetooth speaker that is both durable and portable.
Worth Trying Gadget for Music Lovers :   Buy the Gadget Now