Today I downloaded InboxMind to help me sort through the heaping mountains of promotional emails that I receive on a daily basis. What i thought would be a gimmick tool that would hardly effect the expedience of my mailbox actually turned out to be a rather pleasant surprise.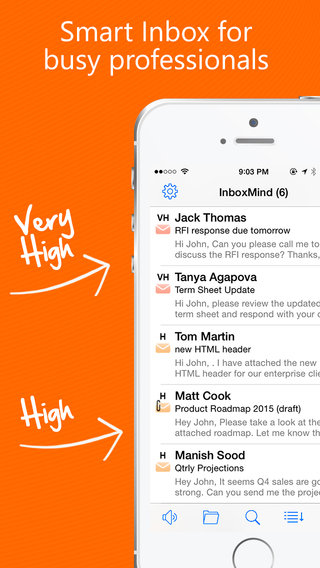 I wasn't hassled with a thousand different screens to sign in and sync my accounts; the phone and the app worked together on that one. The authentication process goes over very smoothly and quickly, and before long I was able to get a good fell for the way the features advertised actually operated. The ability to actually prioritize certain mail over others is a godsend, and in my opinion, probably the most useful feature that the app has to offer. Not saying the other features aren't useful in their own right, only that the mail prioritization was the thing that caught my eye.
The home screen interface in reminiscent of just about any email service provider you can think of; whether it be Gmail, Yahoo, AOL, all the big name email users should feel right at home using Inboxmind. There is one feature that is boasted about that I am rather curious to see in action; it advertises that the app learns as it goes, prioritizing mail into different categories. This seems like an excellent idea in theory, but I'm curious to see if it will just log certain mail that you don't get very often under the unimportant section. Whereas frequent emails from people and websites that constantly contact you will always be front and center.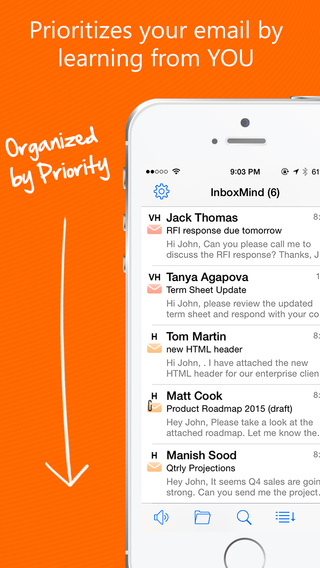 So far as I can tell, this hasn't been the case, so I'd say this new technology is something to look forward to, especially in a refined condition. It's also especially expedient that you can set your own preferences for what is important. This level of hands on interfacing with the user is something that needs to be done with more apps, as opposed to thinking that the system with which the app works is flawless. The fact that InboxMind didn't interfere with my regular email was also nice, the interaction between the two didn't destroy my phone, so it gets points for that as well. Having your own password never sent to a Cloud means that your phone is that much harder to hack, which is an excellent feature to boot. Though I fear that people who put the majority of their personal information in the cloud might see this as being a bad thing. T
he last feature that I tested out was the INBOXRADIO; a way to actually listen to your emails hands free. I've never really been a fan of the voice-over technology as it stands, so that's the primary reason I saved this one for last. The voice-over gets the job done adequately at best, which is saying something when other companies with the same feature just have a robot speaking. So I can't complain too much on that one. All in all, the experience was good and the app operates well, I look forward to seeing things done in such a fashion in the future.
Worth Having Application :  Download the App