The HTC Trophy is the first Windows Phone 7 device on Verizon, and it does a pretty good job of showing off what the platform is all about.
Its smart design with the button-less glass front and black plastic body, delineated by a silver beveled edge, gives it a wonderfully simple yet elegant style. The three touch sensitive buttons incorporated into the glass of the front look superb and are nice and responsive.
The HTC Trophy features a compact design and world roaming capabilities. Windows Phone offers a user-friendly interface, as well as good integration with Zune and Office.
The Trophy has a fine earpiece, a perfectly decent speakerphone, and acceptable reception. The amount of side tone, the echo of your voice in your ear which prevents you from yelling, is ideal.
Round the sides there are the usual selection ports and buttons with a headphone jack joining the power button on the top edge. The volume rocker & a micro USB socket are on the left edge and a camera button on the right. Meanwhile on the back is the 5 MP camera with its LED flash.
The 1GHz Qualcomm Snapdragon processor keeps the phone speedy and ready to handle whatever you can throw at it.
Slightly less well thought out is the fact the power button, if held down, can still turn the phone off even when the screen is locked (there's no confirmation screen). It's unlikely, but not the most practical design decision from Microsoft (again, this is a standard thing with Windows phone 7.
HTC's Trophy may not the best smart phone on the market, but it's definitely a winner.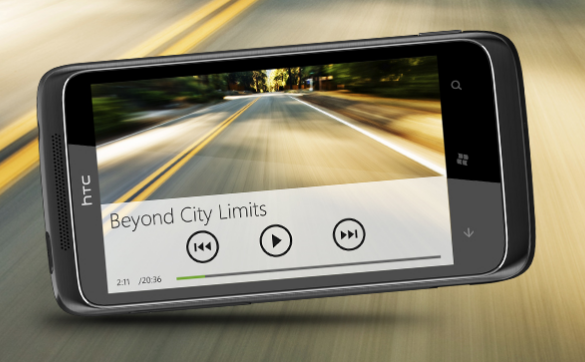 Good Things about HTC Trophy:
Ø Good multimedia capabilities
Ø Good voice performance.
Ø Responsive touch screen
Ø Game hub is chock full of entertainment.
Bad Things about HTC Trophy:
Ø Camera quality is disappointing
Ø Battery life could be better.
Ø No physical keyboard