HTC's first entrance into the tablet world, the HTC Flyer 10″ Tablet sports a fancy new style with its 7 inch, 1024 x 600 pixel capacitive touch screen capacitive touch screen display which allows users to annotate, draw and highlight on text, websites and images beside any other additional multimedia given functionalities.
The device works on N-Trig's Duo Sense capacitive touch technology and offers a similar experience to an interactive display or graphics tablet but only with much more less price tag attached to this gadget.
The inclusion of a stylus — is still the main differentiator on the 7-inch tablet, in addition to the fact that it eschews Android's tablet-optimized OS, for Gingerbread with HTC's Sense UI.
In addition to the lack of Honeycomb (which is said to be coming soon), the Flyer is powered by a single-core 1.5GHz processor (Qualcomm MSM8255). And the 3G radio on the device can only be used for data — no phone calls.
The Flyer also includes two cameras. The main camera rates 5 megapixels with autofocus, but no flash. There is also a user-facing camera rated at 1.3 megapixels for video chats. The Flyer will be able to use Google's custom-made video chatting software over 3G and/or Wi-Fi. It will ship with 32 GB of storage in addition to a micro SD slot for extra storage needs.
The real stand out feature of this tablet is the n-trig duo sense pen and touch digitizer. In all if The Flyer supported Honeycomb, it would undoubtedly be the king of the tablet market.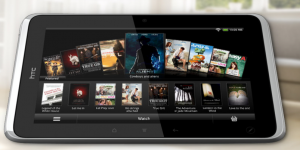 Good Things about HTC Flyer:
Ø 10 " Factor
Ø Digital pen compatibility
Ø HTC's Sense UI customization
Bad Things about HTC Flyer:
Ø Single core processor
Ø Lack of hand/word recognition