In the year 2019, we require smartphone apps to remind us to breathe, eat, and drink the fluid that makes up 60% of our bodies: water. Staying hydrated is important to your health, and the average person needs to consume about three quarts of water a day. Though there are tons of smartphone apps designed to remind you to drink, or log the water you've already sipped, we suggest this app Daily Water Tracker & Reminder | H2O Hydration developed by Oleksandr Kirichenko for benefit of users.
This drink water reminder will professionally assist you to maintain your level of hydration and make sure that you have a perfect balance of water in your body. So develop healthy habits and start with water intake. Now, drink your first cup of water – Gulp.
It is crucial to hydrate your body with the perfect drink – H2O. Also keep a water log, and make sure that your daily water intake is high enough. You can set a water reminder to make sure that you drink enough H2O and frequently.
The Daily Water Tracker & Reminder will help you reach your water intake goals and develop healthy habits! Correct water consumption is crucial for a balanced diet, clean skin; good mood and can even help you lose weight.
The app's customizable reminders will greatly assist you stay on track. The recommended daily intake of water is based on your weight and sex and can be adjusted depending on your requirements.
Important Features of this drink water reminder
Intake goal recommendation
Clean and intuitive interface
Wide variety of beverages
Ability to create your own beverages
Customizable reminders
Customizable water cup
Detailed history and graph – Make a water log
Motivational achievements
US oz, UK oz, L and ml units
We know that hydration is the process of replacing the water in your body and it is important to drink enough glasses of water a day. It is also vital to hydrate yourself in the right way. How much water you should drink depends on your weight and sex. This app help you determine the number of cups of water that you have to drink for the perfect water balance in your body.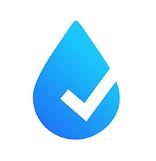 Daily Water Tracker & Reminder is perfect for keeping up with your water intake. Once you've added a drink, the app will permit you know what percentage of your daily intake you have to go. In addition not only can you set reminders on your phone for when to drink, but you can also track your history, create a variety of quick actions, set a daily goal, create custom beverages, and even change the unit of measurement to suit what you're comfortable with.
Why is Hydration so important?
A good water balance helps you with
Balanced diet
Clearing skin
Good mood
Weight loss
Increasing metabolism
Developing healthy habits
So have a perfect drink of my H2O. Log your water intake to track how much water you drink every day. You can also download the best reminder app and drink your first cup of water – Gulp and stay hydrated.
Verdict
Bored of the same old Hydration apps? Let this Daily Water Tracker & Reminder | H2O Hydration app developed by Oleksandr Kirichenko refresh your thoughts. For the developer's successful release on the Play Store and App Store, that they did a splendid job with key features.
DOWNLOAD FROM THE STORE :