Betting is an addiction with many followers worldwide. The risk of gambling is what drives them crazy each time they place a bet. But due to its ill effects especially financially on families, this sport is banned in many countries. People no more can place bets in public or online. However, we all know that no matter if you cut the whole tree, its roots are still there. So here we have this new opening for all you addicts. If you've been into betting before, you must have heard the name of bwin which is an online portal for placing bets across different countries. Now the owners have taken out a new app called Bwin Sports that will be taking care of all the customers making it more accessible on the move. As I've already said, due to ban this app might not be available in all the countries. You can verify it in the App Store.
Bwin Sports( https://www.bwin.fr/sports )has been developed by Bwin and is compatible with iPhone, iPod touch and iPad and requires iOS 5.0 or any later version of the OS. The app has also been optimized for iPhone 5.
When a big player like Bwin comes with a mobile solution for its website, then there are always some rising fingers especially comparing the two different platforms. Though it's not correct, you can't ignore it. User interface is the biggest problem that needs to be catered in such cases and I think Bwin has done a very good job here. There are different sections for different needs such as top bets, live bets or bets for matches that are scheduled for the day. Once you login to your account, you can view your already placed bets and take a look at the live scores of the matches. In fact, in some countries you can even watch the live match.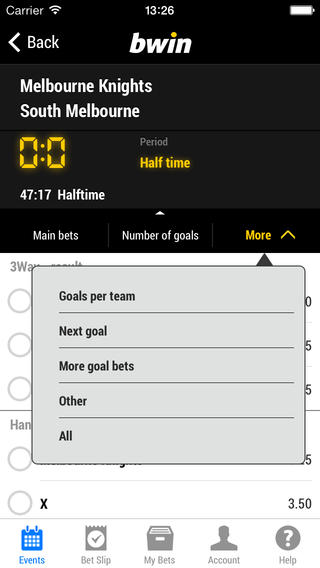 Now we know that there is infinite number of bets possible for a match. For example, if you're betting on a Football match, then the possible bets can be the final score, goal difference, winning team, etc. So there are some main bets as well as other bets available for each match. And if you have so many bets, you need a search engine so that you may directly find your desired bet and that's why there is a 'betfinder' available for you. You can see the odds for a bet right away and proceed with the betting if you think margin is considerable and less risk.
The overall design of the app is great with right buttons placed at right place and a good use of the overall space. There are different icons for different games which is also a plus point. You can also mark your favourite games so that you don't have to search for them again and again.
The app is available for free in the App Store. But it's strictly for users 17 years or above as it involves some heavy real cash. So be sensible while you're using this app.
Pros: intuitive UI; bets for different sports; betfinder; free.
Cons: involves real cash gambling; for 17 years or above users only.
Worth Having Application  :  Download the App