Bubble Jungle: Pro – Super Chameleon Platformer World is a new device game that is normally supported by all devices that have an iOs operating system. It is a new game that has been designed with a lot of dexterity by its developers who are very new. The game is one of the few games that will take your gaming experiences to another level. Bubble Jungle was developed by Cranky Monkey Studio SRLGame Center and its latest verson was released on 19th March 2016. This is a game that has been designed to ensure that all the hardcore game players are not bored while still being appreciated by the amateur game players. With Bubble Jungle you will not be required to always be bored in your bed. This is a game that improves your IQ capacity and it can be played easily by every person in the society today.
What makes Bubble Jungle an incredible game!
1.The 3-D platform. This id a feature that will improve your gaming experiences widely. The views can not be found in other platform games.
2. Awesome graphics! These will ensure that your step-by-step game play is fun and eye watering.
3. The over-50 Bubble Jungle levels! This will ensure that you have a non stop sweet gaming experiences. You don't have to be bored – Bubble Jungle is there for you.
4. A character- customization feature. You can create your own imaginative characters. So what are you waiting for! Download Bubble Jungle today!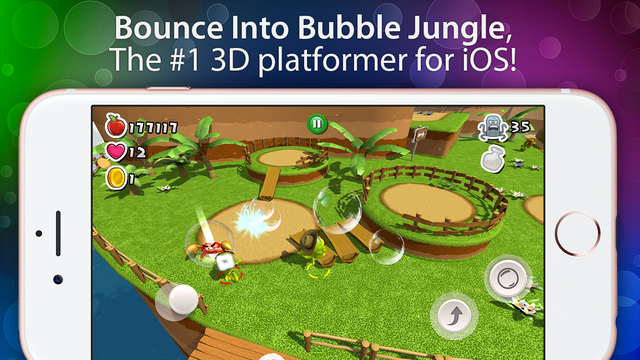 How to play Bubble Jungle
Right from the moment that you download Bubble Jungle you will be required to start voyaging with the amazing Chameleon called Chuck. You will be able to travel through 9 themed worlds and through the over- 50 levels. You can decide to play the game with two, three or four players depending on your choice.
Throughout the gameplay you will be able to collect numerous Lollipops, Candies and Coins that will help you have a better Bubble Jungle experience. These resources will help you power-up Chuck so that he is able to attack enemies. After these levels you will have gained enough experience that will help Chuck fight the Enemies' Boss. Each level is more fun than the last one and it is just amazing to be a Bubble Jungle player. Try Bubble Jungle today!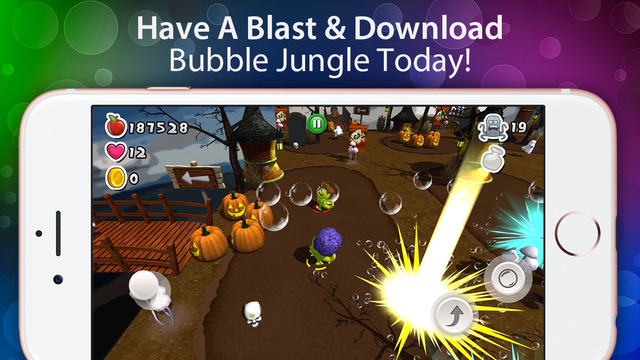 Pros
1. It is fun and addictive to play
2. It is cheap to download and install
3. It suitable for all ages in the society
4. It does not slow down the operations of your iOS device.
Cons
1. It is only supported by iOS devices that have a powerful operating system( above 9.0)
2. The game only supports the English language meaning that people who can't speak English will not be able to enjoy playing the game
However, looking at the features and the pros of Bubble Jungle we can say that this is a must have game! For more fun and sweeter gaming experiences Bubble Jungle is the game that you should install in your iOS device.
The new version( Version 1.42)
The new version did reduce the memory space that is required to download Bubble Jungle and it also fixed the minor issues and bugs that were slowing down the operations.
So where do i download Bubble Jungle!
Bubble Jungle can be downloaded from itunes at a small cost of $1.99. You will only be required to have a free memory space of about 746 MB in your device. You can share all your Bubble Jungle experiences with your friends and family.
Worth Having App – Download the App