Do you own an iPhone/iPad? Have you ever wished to create your own book?
bookPress has the answers to your question! Right at your fingertips, bookPress enables you to create your own printBook. From poetry books, cook books, yearbooks, children's books, story books and text books, bookPress gives you the opportunity to create any book you wish in a matter of minutes.
Simply use your iPhone/iPad and visit itunes. Download bookPress and sign up for your account. This will need your e-mail address, username and password. You are now ready to create your beautiful and distinctive literature using PDF or word documents, photos, blog posts not limiting to other files stored on your iPhone/ iPad device, mail, Dropbox or Cloud accounts.
Features
Share your book with friends and family via Twitter, Email, Facebook and other social media platforms
Use images from your account files
Generate your books either from a blog or an existing website
With privacy settings, you are able to protect your work as well as gaining full control and access to your books
Environment friendly- Work in a secure and trusted environment
Publish your literature in hardcover or soft-cover
Edit and approve your book online before publication
Compatible with iOS 6.1 and above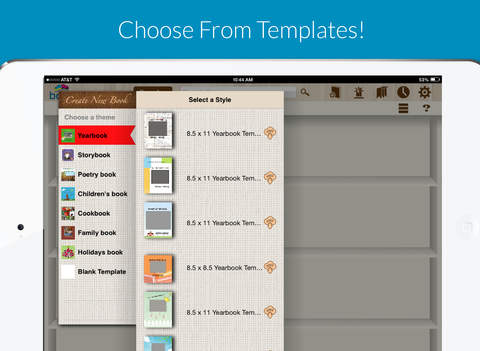 Click on the New Book Tab and begin creating your book. Select your most preferred theme, pre-designed or blank and choose the type of book you wish to create. This may be in hardcover or soft-cover. You are not restricted to the number of pages.
With images, texts and shapes, edit your book anywhere at your convenience on your iPhone/iPad. Inbuilt are several templates which permits you to change the page backgrounds using your own image designs. Moreover, bookPress gives you the ability to key in basic information about the publication, be it author's name, book title, description and theme.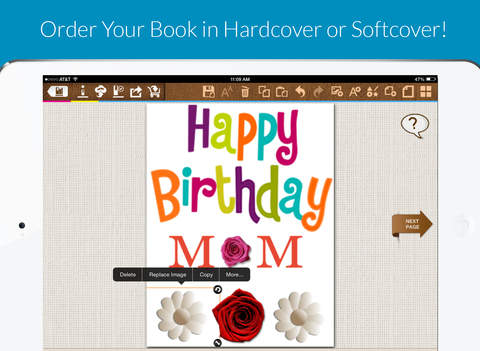 Read your literature in iBooks or other eBook readers. You have the option of publishing your book in either black and white or full color quality. bookPress is educator friendly which gives you the ability to build an edCenter for teachers and educators only to have a secure environment to work as a class. Take advantage of the privacy settings that will aid in your work protection. This will also give you the opportunity to gain full control and access to your book. You may grant public access to your book or not.
BookPress will publish your literature in one or many copies of your choice. There is no obligation to buy however with bookPress. The decision lies entirely on you.
Share your book with friends and family via Facebook, Twitter, e-mail, Tumblr and other social media platforms just with a tap!
So what are you waiting for? Download bookPress now on the iTunes App store and start turning your content into a high-quality print book in no time. From storybooks, cookbooks, poetry books, text books and yearbooks, bookPress gives you the chance to create any of these in one place. This app is absolutely free, compatible on your iPhone/iPad with iOs 6.1 or above. bookPress offers full retina support.
Are you a writing enthusiast? bookPress is surely the perfect app for you.
Worth Having App – Download the App