Getting an incredible opportunity to listen to different internet radios besides recording music is something that will absolutely bring great enjoyment. This is because one will always remain updated with the current trends happening in the world in just a flick of a second. Interestingly, Audio Radio Software has designed and developed an incredible app known as Audials Radio Player Recorder that will perfectly meet such demands.
This app that was last updated on Friday 15th April, 2016 has a content rating of 12+ which clearly indicates its efficiency in performance. Besides, from the reviews (about 15,753) given by honest customers, it is rated at 4.4/5 implying the satisfaction that it has provided to a huge number of its users.
Compatibility of Audials Radio Player Recorder
In order for an individual to enjoy the functionality of this incredible app, one will require an Android device. Meanwhile, its performance will vary in relation to the type of android version that the user will be applying. Besides, the current version of Audials Radio Player Recorder will perform slightly different depending on the device one will be using.
How to operate Audials Radio Player Recorder
The designed applied in this amazing app is pretty easy to understand and use. Apparently, there is a pop-up menu on the screen that introduces the user to different options; they include the Podcast, Mass Recording, Search MP3, and Music icon together with the Clock Radio. For recording, it only requires a single click to get started. An interesting fact is that the recording comes out in high quality with great sound formation. The same case applies to the radio option; high quality is guaranteed!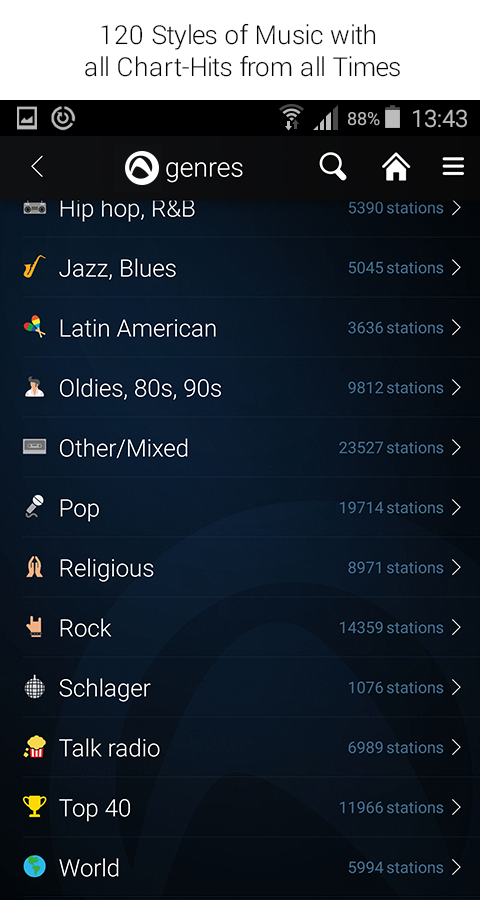 Features
This Audials Radio Player Recorder app has incorporated distinct features that bring out great taste of music and radio listening to the user. They include the following:
Numerous radio stations
With a wide range of over 80,000 different radio stations to choose from, this provides the user with the best experience in getting the best out of them. Actually, it has incorporated favorite stations from different regions around the world including locations such as West Coast, Midwest, East Coast and South Coast. This is meant to perfectly cater for the taste and preferences of different users.
Some of the major radio stations in the US that are streamed by this app include Kiss FM, Virtual DJ Radio, Christian Pirate Radio, The Beat LA, Lite FM, Radio Kiskeya, Onada Cero, Radio Caraibes, WAXQ-FM, Black Gospel Network, ABC, Hot 97, Radio Vision, Z-100, Radio Margaritaville, Fresh FM, Underground Radio, WPLJ-FM, Hard Radio, WCBS FM 101.1, Now FM and KTU.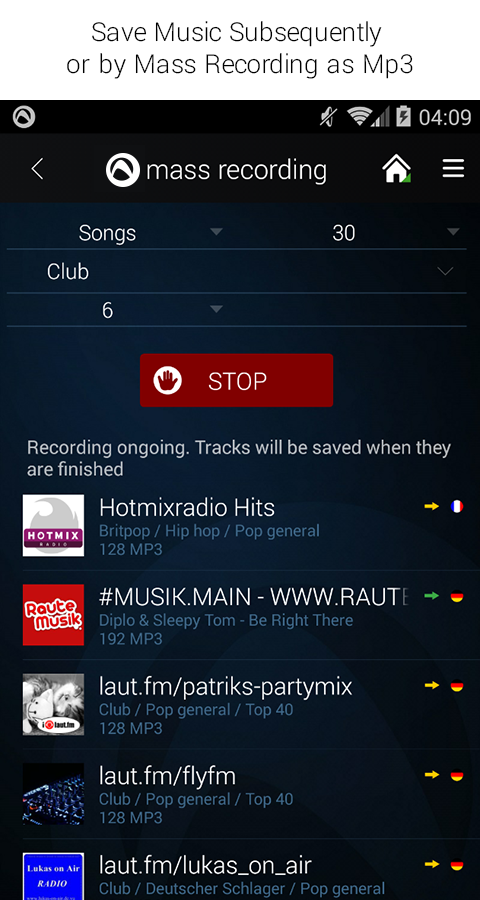 Customized search for best radio stations
Sometimes one might opt to look for the music content of various favorite artists either locally or internationally. Audials Radio Player Recorder actually enables an individual the music or radio station in relation to different categories that they are classified into. This app undertakes the task of locating different internet radio stations and facilitates their streaming using either AAC-Audio streams or in the MP3 format.
Great Themes
In relation to the graphic themes design, the app has adopted appealing and exciting themes of high quality that appear absolutely attractive. Different colors have been incorporated to give it a distinct display.
Pros
Some of the pros identified include:
· Amazing performance and great recording
· High quality sound- no buffering
· Plenty radio stations to chose from
· Efficient and quick search of stations
· Great graphic effects adopted
Cons
· Slight infrequent recording performance in some cases
· A bit complicated to transfer MP3 to computer
Conclusion
In summary, this top rated Audials Radio Player Recorder app has not only facilitated entertainment via radio but also made personalized recording much easier. Its overall performance, quality formation and reliability are indeed recommendable. This app is available for download at Google play for free. Don't miss a chance of listening to the most favorite internet radio stations or recording a hit song. Get it today!
Worth Having App – Download the App – App Official Website