Adjusting to an entirely new place can sometimes be harder than you think. What you need is a good guide who will tell you everything about the place. To satisfy this, ASKME, 'The Bapp of All Apps' does just this. It will guide you about all your requirements from a place in all aspects. It is the one-stop-for-all-your-needs app. The developers Getit Infoservices Pvt. Ltd. are using the Indian superstar Ranbir Kapoor to increase the popularity of this app as well.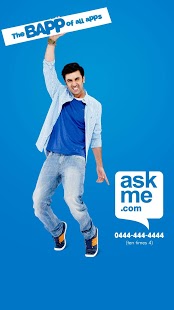 ASKME keeps you posted about everything around you, right from the best cafes and restaurants in your neighbourhood to the best deals available at the moment. It has an active community that will help you decide one place or service over another. Also, you can book appointments, purchase items, post classifieds and do a lot more using this app. It provides necessary daily functionality, all under one roof.
There is a lot up for grabs in the store so far as this app is concerned. You can avail of the best merchant listings, best deals in your neighborhood, and instant purchases. One of the striking features of this app is that it is very light. It does not use much of your download space or drive space, thus keeping your phone optimized. Before making a purchase, you can read through the reviews of a huge community and thence make an informed decision about going ahead. There are blog posts about services and posts as well if you wish to have a detailed review.
The ASKME app is completely free of cost and can be downloaded from the Google Play Store. Both the download and installation take minimal time and effort. Once this is done, you can begin using the app. There is a "I'm looking for" field where you cna make all search queries. Also, there is a "locality" field. The final field is for the city in which you are currently residing. This field is automatically filled in using a GPS locator inbuilt in the app. If it does not automatically get filled, then you can click on the 'find me' button, which will track down your location. Once you have filled all these three fields, you will see a variety of apt search results.
The directory listings of this app are very extensive indeed. Each place has related information and the phone number, complete postal address and photos of it. Each place has been described uniquely with ratings by the users. You can also post and view free ads from other users. This integrated concept is what makes this app so unique. It is highly user friendly and very functional.
The overall experience of the ASKME app is indeed something that you cannot miss. A commendable amount of effort and work has gone into the app. Owing to the extensive directory listing, the swipe and scroll needs to be improved and made smoother. The search results produced are highly relevant and can come in handy at all times indeed.
Good: The one stop app for all your needs
Bad: None
Worth Trying Application –  Download the App