Know it All before you Purchase
Wondering what Nokia Smartphone to pick? You need a little research here. The most important factor that helps you choose from the Smartphone options is the simple question – Why do you want a smartphone? Once you have these answers, note them and compare them what each of the phones have on their featuring list. Pick the phone that's matching your list majorly and it would certainly be your best bet!!
Mixed Platter of Nokia Smartphones
Get introduced to the 5 top smartphones that Nokia has in its kitty. Reading about these phones and then carefully thinking over the features each of these offer will help you choose the best from the gang.
Nokia X3:
If cost is an important factor and mid-range is on your mind, then Nokia X3 smartphone would serve your purpose. The USP of this phone is that it comes with a touchscreen as well as an alphanumeric keyboard. This in all makes texting or instant messaging and surfing the net a fun activity. A microSD slot expandable up to 16 GB is available. And yes it has a camera with enhanced fixed focus of 3.2 megapixels.
Nokia E73:
If you are a Nokia fan already and get a chance to have a look at this phone, you will surely be very impressed. This model has a weight of only 127.6g!! It's indeed the lightest of the lot. Its USP is that it can be used anywhere in the world as it is a Quad Band handset. Nokia E73 comes with a QWERTY keyboard and has a scroller that works 5 ways. Internal memory is 250 MB and has a microSD slot expandable up to 16 GB. A USB port and utility of Bluetooth is also present. This phone can be used as a substitute for a digital camera as it has a powerful camera of 5 Megapixels that too with auto focus functionality.
Nokia N8: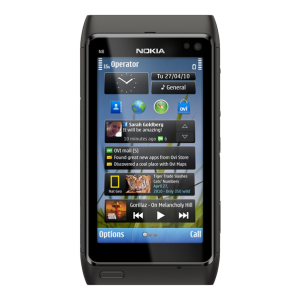 This smartphone is literally an explosive. It is packed with a lot of strong features and is well crafted. It's the first handset ever to come with Symbian 3 platform. List of its features are long but few of them worth knowing are – 12 megapixels camera equipped with
xenin flash, screen resolution of 720, Surround sound of Dolby 5.1 and the facility of watching High definition videos in it.
Nokia C5:
This phone is a perfect blend and gives you practicality along with style. The functions that this phone includes are – Camera 3.2 Megapixel, 670 hours stand by time, Quad band network along with 3g connectivity.
The Nokia 2720:
It is the SmartFlip phone. That's right. It's a smartphone with a flip. It measures 93 mm x 46 mm x 17.9 mm and has a camera of 1.3 Megapixel. It comes with a built in music player and has an internal memory of 32 MB. Available in red and black colours, it's a hit amongst the flip flop users.
Author Bio: Sathishkumar Varatharajan is an Internet Marketer and Full-Time Blogger from India. Right now he works for Pixlo, a free Virtual Tour services company and Nethosting, a Dedicated Hosting Company.